So, it's a few days past April Fool's now, and
gogodgene
already posted something about this in her LJ, but... *shrugs* gogo figured she might as well add her two cents. LAWD, gogo and gogod had so much fun
messing
playing with the nearly all
bleach_beats
and
hardboiled_rpg
writers. 'Course, not everyone was writing logs or checking their profiles at the Grind forum on April 1st, so we expect a few WTF responses from people on hiatus or otherwise occupied.
Our intentions were all in good fun. We took it easy on some of ya'll, either because you're new (and we don't want to scare you away) or we just don't know you that well (yet!). Or, you're not around much, and hence wouldn't associate the, er, "ehancements" to your profile with an April Fool's Day gag.
And then there are those of you who enjoyed the jokes nearly as much as we did (if not more). Some of ya'll are such good sports, it's more than likely that your profiles, signatures, and even some tags, will be tweaked here and there, from time to time, simply because
it's too much fucking fun
. No, no...
because we can, dammit.
Crap, that's not it either. Because RP is SRYS FUCKIN' BZNSS. YEAH. Bitchez... Anyway, to all the BB and HB writers, please don't feel that you have to keep whatever icon, signature, location, profession, etc. we bestowed you with. Notice how gogod dumped gogo's senior prom pic the morning of April 2nd? (Yeah, well, she was just jealous of gogo's fluffy white dress, designed to match mai date's white Corvette. JERSEY x 9000!) 'Course if you wanna keep that naked
Ken-chan icon,
or the username
Dominatrix Momo,
or the Seme!Kira signature, and so on, go right ahead... ((FREAKS)).
In other news, gogo is really happy to have more apps coming in to
bleach_beats
and
hardboiled_rpg
. Cheers to all the new and recently judged apps! Some were expected, some were complete surprises. As for the apps gogo knows (or hopes) are in-progress or being revised...arrrrrgh. DO WANT NAO.
Bleach Beats
will be a year old in May. How cool is that? Hell yeah! We must do something to celebrate... For the record, gogo and gogod didn't create that game. gogo's been with BB from the start, and gogod joined a month or so later. Co-creator/mod
bellumina
and co-mod
benizakura
gave it to us at the first of Oct., and we've hugged it, and luffed it, and called it our squishy ever since. BB rocks. Literally! And having both Kendra and Shini back in the game is pretty cool, too. <3
Hard Boiled,
which opened in January, is our creation and already has a body count of five. (gogo thinks we need to aim for one murder per month. THOUGHTS?) Beyond that, the writing at HB has been
so
amazing; the characterizations, plots, and storylines all so damn
good
. Honestly...we couldn't be more proud.
On that note... OMFG Vizard! CANNOT WAIT for more of them to be apped at Hard Boiled. Am so pinged on them, and the jobs we gave them at HB.
Murder, Inc. is real, yo!
Though,
damn...
what we wouldn't give for some good Eyeshield 21 apps. gogo knows you E21 peeps be out there (looking at
simply_kim
and
shadowgirl1605
, and waggling eyebrows and new new E21 fans
kellenanne
,
some_scribbles
, and
shizukashadow
.)
And for anyone who's even slightly skeptical about Eyeshield 21's place in Hard Boiled, a gritty, film noir style gangster/detective RP, gogo offers you this: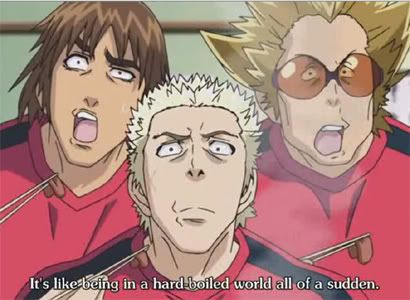 Huh? Huhh? Huhhh??? Hard Boiled in mai Eyeshield? IT'S MORE LIKELY THAN U THINK~
((ETA: Awww~
Short-haired fukutaichou Bya in chapter 107
!!! So, old dude in the pretti scarf is Kuchiki taichou Sr.? But why no kenseiken in his not-so-pretti grey hair? Daddy Kuchiki's got the ginpaku kazahana no uzuginu but no hair noodles? Hmmm...))
(((ETA 2: Sooo, as per chappie 105, the old dude is Grandpa Kuchiki. That's still pretty damn cool. He's not wearing the kenseiken, tho. Interesting... Maybe the short-haired fukutaichou is Bya's daddy? Maybe not. Not sure if we know how old Bya was when his parents passed away. Not that age seems to matter much in Soul Society... )))
be:
Why so much frickin' rain?
listen: The damn rain. Again.